A simple way to make a pot for efficient cooking on an outdoor stove
Double walled pots use water as a medium to transfer heat, preventing burning of the cooked substance. They are simply two pots inside each other, joined by the upper flange. The idea (which is not mine, I just share it) is to cut out parts of the outer wall, turning it into a wind shield, letting the inner pot sit right on the stove.
The milk pots you can buy new nowadays are usually made of stainless steel. Search for a light aluminium one. The difference the double walled pot makes in terms of cooking efficiency is definitely worth carrying the extra weight of the outer coat. It will reduce cooking time markedly and allow you to use the stove even in strong wind without any further protection.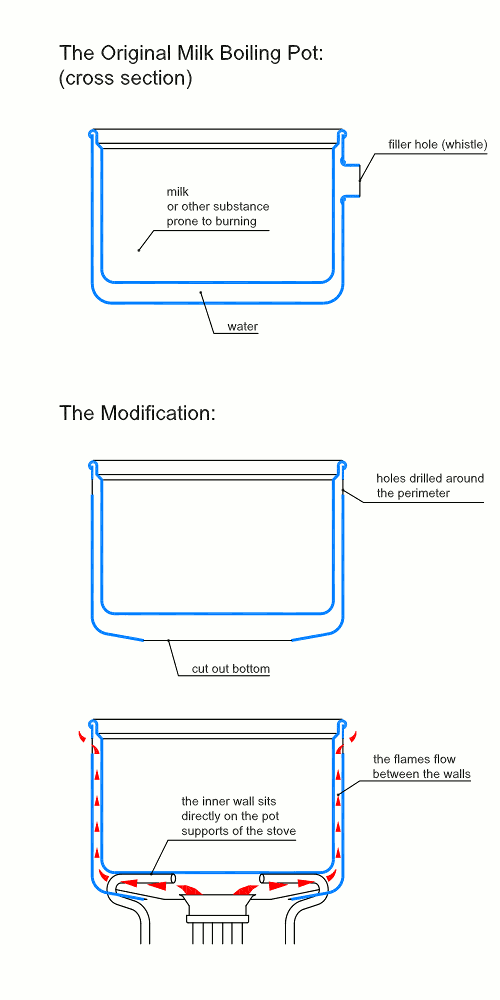 The modification itself is quite simple. Cut out a hole in the bottom to fit your particular stove (most have 3 pot supports, but some may have 4) and drill holes around the upper perimeter to let the hot gasses flow out.
My favourite stove is the legendary vintage Primus. It's a beautiful piece of craftmanship, comparable to hi-tech modern stoves in power and not much heavier, but the simple and robust construction ensures it could be repaired repeatedly and last for decades... One nice thing is that the complete set, including a service kit, alcohol for priming etc. fits nicely into the 1.5 litre milk pot. Allowing me to keep the original Primus enamel tin box, prone to scratches, safely at home for the future generations:-)